arggg me maties, this ain't me costume. Last night aye was a bewitching mermaid.

The Cappy says: "Click here to see a chart of our progress."




The debut of the first item in our line of Slowly merchandise! This one-of-a-kind trucker hat will surely turn heads when you pull into truck stops on your own slow journeys. More exciting items are on the way. Keep tabs at click here.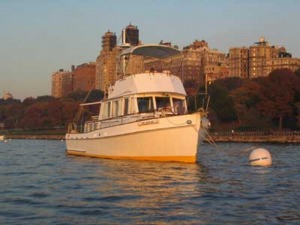 Here we are in the big city, starting a brand new month. Last night was good fun. We went to a Halloween party with Tim's sister Sarah and her boyfriend Jake. We even stayed up till 11:00! Our costumes consisted of little orange PFDs (life preservers), neckleces with a bead made from the hull of Slowly, boater's hats and "Slowly Crew" t-shirts, compliments of Tim's mom. Castaways? Not quite. Rich yacht crew members? I don't think so. Summer sailing camp buddies? Perhaps.

After waking in Brooklyn we strolled around the egg coated sidewalks and dined on baked goods. We wanted to be sure Slowly was okay without us so we slowly ventured back to the boat basin. Sarah, Jake and Hannah's friend from college Mike came out and we began to get used to chauffering other people to and from the dingy dock besides taking ourselves. It's a good workout when the current is running strong, and an exciting way to approach Slowly.
Click here to see the photos of our arrival into New York City.

Take out! It was from La Caridad, a spanish joint, on the upper west side. We had fried chicken, beefy stew, yellow rice, red beans and plaintains (our favorite). For dessert: Nana's homemade biscotti! For drinks: Brooklyn Brewery East India Pale Ale and Yeungling Black and Tan.